7 Best Side Hustle Online That Can Make You An Extra $2000/month
What Is A Side Hustle
A side hustle is an activity that you do in addition to your full-time employees to assist you to earn more money.  It's a way of making money in addition to your primary job, allowing you to supplement your income while still pursuing your passion outside of work. The best side hustle online can be a lucrative business that you can pursue without dedicating a significant amount of time.
This article will steer you down the right path if you've been looking for a way to increase your income while still working a full-time job or focusing on other projects.  While many people begin side hustles online as a method to supplement their monthly income, it's not uncommon for side hustles to become a primary source of income and replace your 9-5.
Side Hustle Ideas
To put it another way, it's the best hustle idea online.  So, start by looking over the various side hustles covered in this article.  As you go through the content, jot down notes and ideas, and when you're done, make a plan of action!
One of the best methods to pay off debt, save for retirement, or reduce financial stress so you can live your best life is to start a side hustle business.
Finally, the best side hustles are adaptable and can continue to be successful even if you don't devote a lot of time to them.
While most of the best side hustles in this article have the potential to grow into much larger businesses, they allow you to work as little or as much as you like when you first start.
P

rovide online Training
You can take things a step further by establishing online courses and training programs.  For example, how to create video lessons based on your knowledge and talents.
Students will pay to attend your training, which can be offered in a variety of methods, including through popular course platforms such as Teachable.com, Skillshare.com or  thinkific.com
Here is an example of earning potential on Teachable.com from their data analysis on their course creators:
The data shows that:
9% of schools on the

ir

platform have

made over

$75,000 (total revenue)

7% have

made between

$50,000

–

$75,000

4% have

made between

$25,000

 –

 $50,000

9% have

made under

$25,000
source: Teachable.com
Related articles:
31 Sensational Small Business Ideas To Start In The New Year
47 Incredible Ways to Make Money Online
You have the choice of developing video-based lessons, text-based lessons, or a combination of both when it comes to developing your training content.
The recommended format should be dependent on your target market and what their need, so do some research on your niche, including existing courses based on your niche.
Courses are huge online!
Course providers are making millions of dollars a year simply by providing simple courses that assist people in learning new skills.
It's also not necessary for your course to be very long.
In truth, students believe that less is more since they only want to master the most important processes or components to meet their objectives.
And if you don't think you're competent to build a course, reconsider!
People are buying programs on sites like Udemy.com on almost any subject they can think of. As a result, start by examining your skills,  abilities, and hobbies then come up with a few concepts that you can qualify later.
If you're strong at bookkeeping or have experience designing websites or making movies then make use of it.  They are valuable qualities that others would be willing to pay a high price to learn.
This is one of the most profitable sides hustling online at the moment. But, you can make even more money by offering select students the opportunity to receive personal guidance or coaching from you for a price.
This is a tried-and-tested method of increasing your earnings, and it allows you to tailor the upgrade in a variety of ways, by offering many stages.
For instance, you can provide coaching for 30 days, or 60 days, or allow students to buy time blocks.  Or, you may include a membership option in your course that allows students to access extra tools and resources for a fee.
Affiliate marketing is one of the most popular and lucrative side hustles available.
It's no surprise that so many folks get started with this opportunity because it is simple to set up and can be automated for passive income after you've put your system in place.
You can join a variety of affiliate networks to gain access to in-demand products and services from which you can earn a commission.
But, the best one for you will depend on the market you're interested in as well as whether you'll be promoting digital or physical things.
You'll also want to invest in a blog or website, as well as a newsletter service if you want to make money with affiliate marketing.
It will be easier for you to produce quality traffic that can turn into sales if you create a short blog even if it contains only review-style articles.
You'll also be able to start establishing a mailing list of active subscribers who are interested in your products and services by using a newsletter service.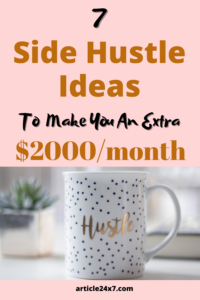 Here is a list of some of the most popular newsletter service providers:
Constant Contact
Drip
ConvertKit
SendinBlue
AWeber
MailChimp
This will not only save you money on marketing or cut it, but it will also allow you to start affiliate-based campaigns for a specific demographic group.
Note that while affiliate marketing can be rewarding, it is also competitive.  This is why it is important to focus on a specific specialization or niche.  Concentrate on one primary topic of a popular market and then create content around it to crush it.
To learn more about the Affiliate Marketing earning potential take a look at this Case Study: How Pat Flynn Made $167,553.31 in Passive Income in One Month
Create pages on your blog that provide information such as extensive reviews and evaluations to assist customers in making purchasing decisions.
Here are some affiliate networks to get you started, but, most importantly look for affiliate programs in your industry to locate the best ones that aren't on a larger network.  Here are some of the programs:
Amazon Associates
ClickBank
Commission Junction (CJ)
Become a Freelancer
Freelancing is a terrific way to supplement your income without having to devote a lot of time to it.  Choose a service menu, set your prices, and take on assignments that you have time to complete each week.
Freelancing takes various forms, you'll be able to create a client base by creating a profile on sites on:
Fiverr.com
Freelancer.com
From writing, programming, and design to virtual assistants and specialist fields like legal, translation, and mobile development, there's something for everyone.
Only take jobs that you are confident you can complete. Furthermore, conduct market research so that you can set fair price points for the various services you provide.
You never want to undercut yourself or devalue your job, so look into what other freelancers in your market charge for similar services.
On freelance services like Upwork, user feedback is crucial since it helps to improve the quality of the work. This means you have to try very hard to fulfill deadlines at all costs.  If you expect any problems, you notify your client as soon as possible.
Here are some more freelance marketplaces to consider:

Dropshipping is a method of selling products without having to buy or store inventory.  Dropshipping gives you comprehensive automation in your business!
You can have the manufacturer ship the product to your customer without you having to touch the product.  Thus, saving up your time and reducing your workload.
It's also a low-risk possibility because,  things are only shipped out once they've been purchased, eliminating the cost and high risk of purchasing inventory in advance, to run other similar businesses.
Choose a niche to sell in, find a supplier, and reach out to new customers using sales platforms like Amazon or eBay to get started.
Finding your niche is crucial since it will help you narrow down your focus so that you can begin assessing the many items available.
While many people make money through dropshipping by keeping an eye on current trends and then jumping on them, the best advice is to focus your efforts on evergreen products that will sell all year long and offer you a consistent income.
While hot trends are fantastic for rapid, short-term gains, it's usually not a good idea to build your entire organization around them.
Instead, focus on evergreen markets with steady demand and repeat clients.
If you want to stay on top of current events, check out this website:
If you're looking to get started in a popular, evergreen niche, the Oberlo app can help:
Finally, you may find suppliers online, such as Oberlo, and construct a shop that includes their inventory.
Here's are some alternatives:
T-Shirts and other Merchandise To Sell
Did you know that you can profit from selling t-shirts without ever having to ship merchandise or even receive a payment?
You may create and upload designs to websites like RedBubble.com and Printify.com, and they'll take care of the rest.
You'll get paid a part of each item sold, and you'll be able to choose from a variety of product kinds to use your design on.
It means you could sell items such as coffee mugs, mousepads, and even handbags besides t-shirts.
This is an excellent side hustle business because it does not need much time or effort.
You won't have to put in much effort to get started, and you'll be able to work on new designs in your spare time.
You should spend some time investigating a range of markets to come up with unique concepts that will sell.
This is usually the most time-consuming phase, but it is well worth the effort.
Popular products can be found on websites such as Amazon and Etsy.
Take note of popular keywords, key phrases, slang, and even colour schemes that are selling, as this information will assist you in creating your designs.  Make sure your graphics are 300 dpi and saved as.PNG files with 4500×5400 size.
Of course, if you're not a designer, you can still participate by hiring graphic designers through sites like Fiverr.com.
Self-Publishing
The Amazon KDP (Kindle Direct Publishing) Platform makes it simple for anyone to get their work published without having to send out query letters in the hopes of being accepted.
You may publish a book in a variety of marketplaces, including fiction and nonfiction, with a free Amazon KDP account.
To begin, think about the various themes in which you are interested and have experience.
Are you a lover of historical, romance, or fantasy nonfiction?
Consider writing a short piece and then expanding it into a full-length novel or series once you've gained experience with your publishing.
Are you familiar with non-fiction topics like self-help, business, finance, and personal development?  These are some of Amazon's most popular genres.
Don't let the fact that you're not a natural writer deter you from taking advantage of this lucrative side hustle.
On marketplaces like UpWork.com or Fiverr.com, you can construct a fast outline of your book and outsource the writing to ghostwriters.
When constructing an outline for a ghostwriter, it's important to clarify the project's goals.  Make your vision as detailed and clear as possible so that your ghostwriter gets it right the first time.
Before creating contracts or issuing payments or milestones, check the ghostwriter's abilities.  It's critical to find a ghostwriter that has the same voice and writing style as you.
Review a ghostwriter's profile, particularly past works in your genre.  This can help you figure out if they're a good match.
Self-publishing is quite lucrative, and if you hire a ghostwriter and an editor, you can automate a major part of the process, allowing you to build a passive revenue stream.
Don't limit yourself to Amazon. You can also make money by writing short pieces for sites like Medium.com and short "episodes" for popular platforms like Radishfiction.com where some authors are earning six figures per year for short stories!
Remember that self-publishing isn't limited to fiction and non-fiction books!
On Amazon, you can also make money by publishing "low content" books.  Planners, calendars, notebooks, and other items fall into this category.
These not only sell throughout the year, but they also take very little time to make once you get the hang of it.
Premade planner templates and low-content books with complete commercial-use rights can be purchased on websites like Shop.nicheraiders.com to save even more time.



Make Money With Your Talents
Many excellent businesses are founded on a personal interest or knowledge – and these aren't always visible. Evaluating your experiences and skills is one of the best ways to find new side hustles.
That's why it is recommended that you write down anything you're passionate about, interested in, or know how to do.
The possibilities are endless, whether it's gaming – which could be transformed into a lucrative side hustle on gaming networks.
Make sure there is a current demand for the products and services in that niche?
Consider the many formats that are currently available online, as well as the various price points.
Consider how you may arrange your offer to be more competitive.
Time Required: You'll also want to consider how much time it will take to develop a product or service in this sector and whether you have the time to devote to it.
Difficulty Level: Determine whether the product or service you're planning to create is something you can do yourself or should be outsourced to competent freelancers through sites like Upwork.com.
Set a start and finish date and get started after you've studied your market and created a solid outline that will guide you on the right route.
Look for and join Facebook groups or Reddit threads about the topic you're interested in.  It's a great way to analyze your market, but also to place yourself in a position to network.
Conclusion
In this guide, you've been provided with a variety of best side hustles ideas, all of which you can do online.  This means that all you need is a computer and an Internet connection to get started!
There are a variety of other types of side hustles, including those that take place offline, so keep looking into them to see which ones are ideal for you and your lifestyle.
Begin by focusing on one significant side hustle and growing your revenue until you're ready to move on to the next or convert it into your primary source of income.
Every side hustle, whether online or off, will need time, patience, and perseverance to get traction, but if you have these qualities, you can succeed.