24 Personal Finance Tips That Will Change The Way You Think About Money
Change The Way You Think About Money
At the turn of each year, we all have our dreams and we possess new levels of energy to achieve them. We set Personal Financial Goal and we hope that the personal finance tips we've learned in the past will be enough to help us reach our goals. These expectations never go away, everybody wants to succeed, at least in their minds but not everybody will unless they take action. Now is the time to take stock and look at the list of these 24 personal finance tips you should take if you want to improve your personal finance this year.
REVIEW YOUR PAST YEAR FINANCIAL PERFORMANCE
The first thing you should do is to analyse the past financial history. Review your financial activities for the past 12 months. Look at your earned income and your expenses. Break it down to get a clear picture of where you are now. It might take you a few days but this is a 30-day plan so take a few days to get all the facts in place.
Create an income and an expense spreadsheet. Record every entry into this spreadsheet to give you an idea of where the money is coming and going.
START WITH A PERSONAL FINANCIAL CHECKLIST
The next step is to create a checklist of all your financial matters. Have a separate section for emergency as you plan your journey to financial freedom. This is because emergency situations will always arise and you have to be prepared for it in your plan.
The best way to create this checklist is to break each financial matter down into months.
SET YOUR GOALS – MAKE THEM REALISTIC FINANCIAL GOALS
After you create your checklist, the next step is to set up your personal financial goals. Attach a specific date on which to achieve your goal.
Be specific with your dates. When your goals are specific with a time frame you are more likely to achieve them than when there is no time frame.
CREATE YOUR BUDGET – KEEP IT SPECIFIC
Once you set your budget, learn to work within it. That way, you can meet most of your financial plans. If you cannot manually plan your budget, use one of the numerous apps available on the App store to help you. Use these Apps to help you stay within your budget and create a disciplined approach to your spending. Don't try to budget in your head, write it down so that it is specific.
SAVE FIRST BEFORE YOU SPEND
If you can live by this rule you will achieve financial independence much faster. For every dollar, you earn, save at least 10% of it. The way to achieve this is to pay yourself first. Discipline yourself to put 10% in your savings account as soon as your earned income hit your checking account.
GOOD DEBTS AND BAD DEBTS – DO YOU KNOW THE DIFFERENCE
Learn the difference between Good Debt and Bad debt. Using Good debt is how the wealthiest people in the world operate. Good debt brings in cash flow and if well managed, create the roadmap to financial freedom.
Bad debt, on the other hand, buys you things that lose a huge percentage of their value the moment they leave the showroom. That put pressure on your finances as you try to meet the high financial payment that is needed to service the bad debt. If you can, avoid Bad debts at all costs.
Good debts, however, help you buy assets such as real estate, businesses, investments and stocks. These types of assets will grow over time when compound interests are added helping you on your financial independence journey.
Bad debt nevertheless, is taken out to buy non-essential luxuries such as cars, holiday trips, high fashion goods and services. Instead of compound interest growth, Bad debt takes away what little you already have. Avoid Bad debt like a plague.
PAY OFF YOUR HIGH-INTEREST DEBTS FIRST
Start by making a list of your bad debts in order of their sizes and interest charged. Then settle debts with the highest interest rate first. Then once that is paid off, tackle the next highest until you get to the debt with no interest charge on them.
Once you start paying off the highest interest debt first, allocate the minimum required to all the other debt. Then assign all the payments from the highest debt you've paid off to the next debt. As you pay off your debt, you are also reducing the interest rate charges on your debt which will help you pay off your debt much faster.
LIVE WITHIN YOUR MEANS
By living within your means, it means not spending more than 10% of your income on any project that you have not previously saved for.
STOP ENTITLEMENT MENTALITY
Nobody is entitled to anything for free, implant this into your mind and motivate yourself never to forget it. By setting your financial goals, you are taking responsibility for your future.
The most successful people don't sit there and wait for something to happen. They make things happen. They struggle through failure after failure never giving up until they succeed.
So, don't give up on your Goal too easily when the going gets tough. When the going gets tough the tough get going. Have that mindset and work harder to create your success.
AVOID GAMBLING AT ALL COST
A few will be lucky to hit it big. However, the vast majority of people will never win anything big. The wealthiest people know that waiting for some big windfall may never happen so they don't bet the future on luck. They know that luck is a deliberate effort of an individual therefore they diversify their portfolio before engaging in any gambling game.
WHAT ARE THE THREE TYPES OF BANK ACCOUNT YOU SHOULD OPERATE
The danger of using a single bank account to manage your personal finance is flawed. If you are serious about securing your financial future, then you need to have 3 separate bank accounts. The first should be your checking account where all your income comes in. The second should be your Pay yourself first or your savings account and the third is for your expenditure account.
TRACK YOUR NET WORTH REGULARLY
The next step is to track your net worth. Do you really know how much you are worth? The problem is many people think they are worth more than they actually are. To take control of your personal finances, you will need to track your net worth either monthly, quarterly or annually. As you save and pay off your Bad debt, hopefully, your asset will start to increase and your liabilities will fall. When you subtract your liabilities from your Assets whatever remains is your assets. That's what your Net worth is.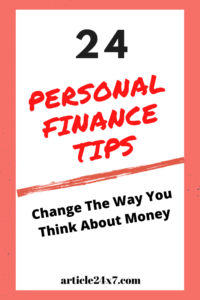 DIVERSIFY YOUR INVESTMENT PORTFOLIO
By spreading your investments you are minimizing the investment risks. Spread your risk to take advantage of inflation, taxation, government policies etc. Don't forget to diversify your side income too, start a side hustle.
CREATE PASSIVE INCOME
This is key to achieving financial and time freedom is to build passive income and wealth. You must create activities or buy assets that generate income while you sleep. Use technology and the internet to get involved in some of the many lucrative online businesses that would help you generate an income passively.
INVESTING WISELY – LEARN THE RULES QUICKLY
Make sure to follow the rules of investment philosophy, that is:
Never invest in anything you do not understand. Get the required knowledge before plunging your hard-earned money into any venture.
Never invest money you cannot afford to lose. Investment can be a risky venture, so have liquid cash you can fall back on if your investment fails.
Learn about the rule of Compound Interest.
Learn about the laws that govern your area of activity and stay within the law.
ENGAGE IN YOUR PASSION AND HAVE FUN
Learn to be passionate about what you do. Have fun and enjoy life to the fullest. If you don't enjoy what you are doing, you are more likely to quit. Always give yourself enough time to see the fruits of your labour.
EXERCISE REGULARLY TO KEEP YOUR MIND AND BODY SHARP
Exercise to keep your mind and body alive and active. Eat well and stay off unhealthy meals and drinks.
HEALTHY BODY HEALTHY MIND – MAKE IT A PRIORITY
Make your health your number one priority. Because without good health any wealth you create in the future would be worthless, you will not be there to enjoy it.
BE FLEXIBLE AND BE READY TO ADJUST SWIFTLY
Plan ahead, but also plan to change when the environmental condition change. Do not be too rigid that you find it difficult to make adjustments. Things will happen along your financial freedom journey and you will need to adjust to the evolving condition along the way.
WORK SMART NOT HARD
The internet has changed the world we live in. While you are working 40 to 60 hours a week to keep your 9-5 job, lots of people are doing fewer hours and making 6 figures and creating wealth. The rule is to work smart and not hard.
Think of ways that you can disrupt the ways things are being done now and change it for the better. Make it faster, cheaper or better. If you have a huge social media following, can you engage them in your journey? The more people you help the more money you will make.
AUTOMATE – USE TECHNOLOGY TO AUTOMATE YOUR SAVINGS AND EXPENSES
This is the age of technology. Try to automate everything including all your banking activities. This can easily be done on your mobile phone. By automating your savings and spending, you don't overspend on your budget. Be creative and use technology to help you achieve your personal financial goals.
CHARITY BEGINS AT HOME – GET INVOLVED WITH A CHARITY
By being charitable, you can give 5% of 10% of your income to your favourite charity. You can give your time freely to a worthwhile cause. You can coach, teach or provide service for free one day a week or even a few hours a week. It's up to you how you choose to do it but it is a worthwhile cause.
PLAN FOR RETIREMENT – START YOUR RETIREMENT PLAN EARLY
Retirement planning is for a time in the future when you are no longer young and vigorous and so you want a life of less work and less stress You can achieve that goal by planning well in advance.
A great time to start is when you are in your early twenties. Start your retirement savings account early and have your insurance policy in place too. Create an investment portfolio that will generate income when you retires. How about your stocks and shares and real estate investment? If you don't plan for your future early it gets more difficult as you get older. Don't rely on the government state pension scheme.
HAVE A MENTOR- SELECT YOUR MASTER MIND TEAM
Have a mentor to help you achieve your goal. Your mentor should be someone who has done it and can teach you the shortcut. A mentor will help you get to your destination faster and more smoothly than they did. Ask for help and you will achieve your goals faster.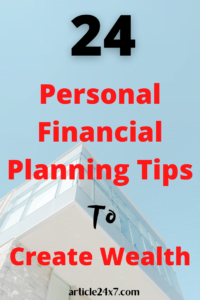 START NOW, DON'T WAIT UNTIL IT IS TOO LATE
Finally, it is never too late to start planning towards your financial independence. You can start putting in the hard work now and realize the benefits later. Review your plans regularly to stay on track. Good luck!
Related articles:
How To Plan Your Financial Goals Like A Financial Planning Master
How To Budget For Financial Independence
Best Items To Sell On eBay In 2021