How to Make Money Writing Articles
How To Make Money As A Writer
When you think of How to Make Money Writing Articles, you often think of freelance writing, ghost-writing, and writing novels… all of which you can do on the internet.
However, there are other hidden opportunities for good writers in the internet marketing world such as the information business.
Information is the key to the internet, whether selling tangible or digital goods. To answer your question, yes, people buy eBooks all the time. They don't even mind paying for those physical books. Just go to Amazon.com and search bestseller books to see how many books are being sold there. It's all about information, people are starving for it, so if you can write you can make money writing articles online.
If you can write well, you can make money online. If you want to know how to make money writing articles? let's look at the example of an Internet Marketer.  The way they run their entire operation is with the written word. They set up websites with content, drive traffic to their websites by submitting articles in mass.
They write sales copy for their products and reviews for other hot affiliate products. They write a series of e-mails that are automatically sent via an autoresponder to their subscribers. Then boom, the money starts flowing in. See how Neil Patel makes some of his money writing emails to his subscribers.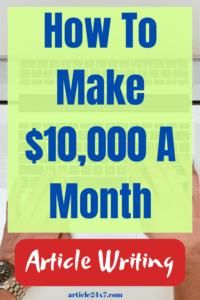 Can you Make Money Writing Article Online?

The big hype over the past few years has been on blogging. Writers are slaving away at their blogs as we speak, a new blog is created every second according to Technorati, now part of  Synacor. The truth is that very few bloggers are making any kind of serious money while many internet marketers who can write are banking the big money. Instead of slaving away at blogging, write articles and submit them throughout the web for backlinks.
If you're not a great writer, you should still take up blogging while at the same time studying internet marketing, so you can hone your craft. If you have writing skills, start internet marketing. Dive into Internet Marketing forums such as WarriorForum.com for ideas and knowledge, they have been online since 1997.  Look for their Warrior for Hire category, it's a great way to make money writing articles for other Warriors.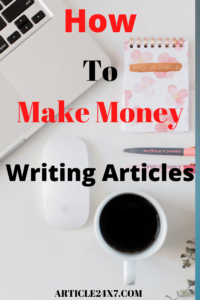 How To Make Money By Writing eBooks
Here are things you can do with your writing skills to make money online.
Write a review of a product, join the maker's affiliate program to earn commissions, and create a website or a one-page site to redirect your affiliate links.
Buy private label rights material on a hot subject, edit it completely and create an eBook with it insert an affiliate link within, create a website to promote your eBook, use some of your PLR to write articles then massively submit them for backlinks.
Buy web hosting and a short punchy .com domain name relating to a niche. Find a free template by searching WordPress, buy 25 PLR articles and rewrite them to make them unique, but the articles on your site, and sell the website along with its contents at Flippa.com.
Write content, put it in a zip file, and sell private label rights to your content on your website over and over using PayPal.
Write an eBook, create a squeeze page at your site, register your eBook at Click Bank, drive traffic to your sales page and squeeze page with articles and affiliates, and market your eBook through a series of emails via an autoresponder.
If all fails, join a Freelance writing site and work with them to earn money online writing.
Writers Make Money Online
Freelance magazine journalism.
Join a content mill or a freelance writing site and write content for blogs and websites.
Start your website and write online articles to gain a following
Self-publish your eBooks or physical books.
Earn cash for writing fillers and snippets.
Aim to become an author and write a bestseller.
Getting Paid To Write
There are lots of platforms on the internet that you can join and start getting paid to write.
They include:
Freelance platforms.
Blogs looking for writers.
Article writing services.
Sponsored posts.
Writing contests.
According to Freelancing school, these are the 15 best freelance sites for writers:
Contena
FlexJobs
Freelance Writing Jobs
Contently
MediaBistro
Freelancer.com
Constant Content
Guru.com
Writer Access
Craigslist
BloggingPro
How much should I charge for a 500-word article?
The average freelance blogger can make from $54 per 500 words. Bloggers with less than one year of experience can expect to earn a little less than that, typically around $40-$50 per 500 words.
How much should I charge for a 1000-word article?
You can start charging anything from $0.08 per word. This will earn you $80 for a 1,000-word article. If you can research the outline, write, and edit it in two hours or less, which is not impossible then it means an income of at least $40 per hour. Which is not too bad, aim to write two or three 1000-word articles a day and you will have a full-time income.
Related articles:
How To Write An Article With Website Content Writer
How To Get Paid To Write Online
Get Paid Up To 5000 Per Month To Write Online
Writing Articles For Your Website To Make Money
How To Make Your Article Interesting And Compelling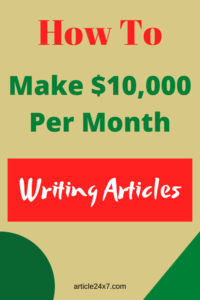 How to make money as a writer
Freelance magazine journalism.
Write content for blogs and websites.
Enter writing competitions and win.
Write online articles.
Self-publish your book.
Earn cash for fillers and snippets.
Write a bestseller.
How do I start just writing?
Just start. If you don't know where to start, don't worry about deciding right now.
Start small and build up.
Incentivize the reader.
Write your subject Title Up Front, then edit it after your article is written.
Create a Synopsis.
Allow yourself to write badly at first and edit later.
Make up the story as you go, just let the juice flow.
Finally, edit and publish.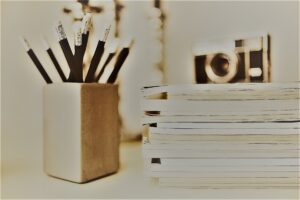 What are the 5 types of writing?
There are five main types of writing:
expository,
descriptive,
narrative
persuasive
creative.
Many other subtypes fall under these titles but it's best to start from here.
What are the basic writing skills?
These are the Five Basic Writing Skills you should learn at first as a student of writing articles.
Proper Spelling and Punctuation.
Good Reading Comprehension.
Sentence and Paragraph Structure.
Knowledge of Different Types of Writing.
Editing and Rewriting.
What are the rules for writing a sentence?
If you wish to be understood in writing, you must use complete sentences. Each sentence must have a subject, a verb, and generally an object.
What do most writers use to write?
These are some of the 10 Best software for Writing online:
Scrivener (Word Processor)
Google Docs (Word Processor)
Google Sheets (Spreadsheet)
Vellum (Book Formatting/Word Processor)
Freedom (Productivity App)
Microsoft Word (Word Processor)
Ulysses (Word Processor)
Microsoft Excel (Spreadsheets)
Easy Ways to Make Money Writing Online in 2022
After all,, if you still want to make money online writing, then just start a blog. Look at this article on HOW TO START A BLOG here.  
Once your blog is established, you can start scaling out by reaching out as a Guest Blogger.
Getting paid to guest blog is a great way to earn an additional income online.
Ask around your communities, Face group groups, Pinterest followers, or Instagram followers. Use a Job Board as mentioned in the 15 best freelance sites previously.
Do Affiliate Marketing, there are lots of opportunities to work with affiliate companies by writing reviews about their products and services to earn a commission.
Use Past Clients, use other Freelance Writers via sites like Fiverr and Upwork to keep your ideas juice flowing. Then sell your first blog on Flippa.com or Empire.com and Start Another Blog again.