How To Get Paid To Write Online
Write Online
When you think of making money writing, you often think of freelance writing, ghost-writing, and writing novels… all of which you can do on the internet. However, you can now get paid to write online and here are the hidden opportunities for good writers in internet marketing.
Information is the key on the internet, whether selling tangible or digital goods. Do eBooks still sell?
To answer your question yes, people buy ebooks all the time. They don't even mind paying for those physical books bound together by a wire. This is because it's all about information. People are starving for it.
Write Articles For Money
If you can write well, you can make money online. As for internet marketers, the way they run their entire operation is with the written word.
You Can set up your websites with content, drive traffic to the websites by submitting articles on mass, then write sales copy to promote the products and reviews for other hot products too.
Write a series of e-mails that are automatically sent via an auto-responder, then sit back and see what happen.
The big hype over the past few years has been on blogging. Write a blog, so many writers are slaving away at their blogs as we speak, as one blog is created every second according to Technorati.
The truth is very few bloggers are making any kind of serious money while many internet marketers who can write are banking. Instead of slaving away at blogs, most of us write articles and submit them massively throughout the web for backlinks.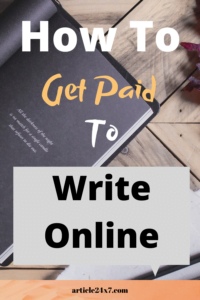 If you're not a great writer, however, you should take up blogging while at the same time studying internet marketing, so you can hone your craft. If you have writing skills, before beginning your internet marketing journey, I suggest you dive in at the forum that's been online since 1997 –  WarriorForum.com and learn what is currently happening.
How can I make money by writing online?
You can start a blog. This is one of the best ways to make a living online.
You can get paid to Guest blog.
Use a Job Board to find freelancing jobs.
Start Affiliate Marketing with or without a website.
Freelancing writing with Upwork, Fiverr or Freelance.com.
How do I start writing to get paid?
You can get paid to write articles for Blogs, eBooks, Magazines, and Journals.
You can make money by creating PLR articles for sale.
You can become a best-selling Kindle author by publishing on Amazon.
Make Money creating copy as a Copywriter.
Become a Ghostwriter for other authors.
Build a Niche Blog and promote affiliate products.
Can I make money writing?
Yes, you can start Freelance writing at minimum cost.  It can also be a fantastic way to earn income which can potentially lead to full-time income.
Related articles:
Get Paid Up To 5000 Per Month To Write Online
How to Start And Skyrocket Your Email List
47 Incredible Ways to Make Money Online in 2020 
Get Paid To Write Articles
For the rest of this article, I want to reveal 5 things you can do with your writing skills to make money online just to prove my point.
1. Write a review of a product
join affiliate programs in order to earn commissions,
buy webspace and PHP redirect using your affiliate link,
submit to ezine directories link to your website in the resource boxes.
promote your articles on social media to get a share,
comment on blogs and get backlinks.
2. Buy private label rights material from a reliable source on a hot subject, edit it completely and create an ebook with it inserting an affiliate link within, create a website to promote your eBook, use some of your PLR to write articles then massively submit them to social media networks like Facebook, Pinterest, and Instagram.
3. Buy web hosting and a short punchy .com domain name
find a free template by using WordPress,
buy 25 PLR articles and rewrite them to make them unique,
put the articles on your site and sell the website along with its contents at Sedo. or Flippa.
4. Write content, put it in a zip file, and sell private label rights to your content at your website over and over again using PayPal.
5. Write an eBook
create a squeeze page at your site,
register your eBook at ClickBank,
drive traffic to your sales page and squeeze page with articles and affiliates,
market your eBook through a series of emails via an auto-responder.
If all fails, try Freelance writing here: Get Paid To Write Online