Making Money By Flipping A Website!
Are you looking for a new way to make money online because you're sick of the 9-to-5 grind?  Look no further than website flipping!  The practice of buying underperforming websites, making improvements to them, and then selling them for a profit is known as "website flipping."
Website flipping has the potential to be a rewarding business for those who are ready to put in the necessary time and effort. All that is required is the appropriate approach.
One of the most appealing aspects of website flipping is its simple business model.
The 4 steps to successfully flip a website are in theory very simple.  You buy a website, fix it up, and then sell it for a profit.  This business model is so simple that you can succeed even if you have no or little entrepreneurship experience.
In addition, the website flipping business requires a low initial investment. You only need a couple of dollars to get started if you're starting from scratch.
You can also buy existing websites with a high-profit margin for a few hundred dollars. Given that there are virtually no overheads, this business has one of the lowest capital investment barriers to entry.
You should plan ahead of time if you want to make money by flipping websites.  Visit one of the online marketplaces dedicated to website flipping to get a feel for how to make money in this sector.
Finding a profitable website is difficult, especially if you want to flip it for a higher profit in a short time.  However, with the right research and knowledge, even a beginner can find a good site with a lot of potential to start with.
Website Flipping: How To Turn A Website Into A Successful Business In 4 Easy Steps
Although it might appear to be difficult at first, flipping websites is pretty easy to get started with.
The fundamental concept is straightforward: you buy an already-established website, make modifications to it, and then resell it for a profit.
The following is a list of the steps that you need to follow:
Conduct market research before you start flipping websites. You need to know what kinds of websites are in demand and what kinds of websites fetch the highest prices before you can even get started.
Choose a market niche: Once you have a solid understanding of the market, the next step is to identify a market niche that both piques your interest and has the potential to expand.
This can take the form of anything from a blog devoted to a certain subject to an online store that specialises in the sale of a particular item.
How To Flip A Website in 4 Steps
Step 1: is to determine if a website is worth the investment by the income it is generating. Most websites have some type of income source such as PPC advertisement (Google AdSense etc), Pay-Per-Action programs (ClickBank, etc), or selling of their products.
Analyse the current profitable channels and see if you can expand or add in other sources of income. It's never a good idea to rely only on just one source of income for a website.
Step 2: is to find out where is the traffic coming from. Most websites should have a healthy amount of constant traffic from search engines followed by social bookmarking sites or regular visitors.
If most of the traffic is coming from search engines, you should find out what keywords brought in the traffic. Search out the keywords in Google and check out the search engine rankings of the site.
You should also check with the seller what are the top search engines that direct the traffic to the site. With this information, check the on-page optimization effort of the site and you may have more ideas for improvements after you have bought it.
Step 3: is to highlight the areas of possible improvements to the site. If you can come out with at least two quick fixes to the site that can increase the value created to the visitors, the traffic to the site will increase to the next higher level eventually.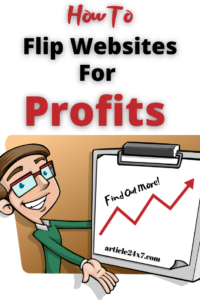 For example, if you can include an online tool to calculate the financial net worth of a person in a financial blog, that would most likely benefit all your readers in the long run.
Step 4: is to check for backlinks to the site that you are interested in purchasing. It is highly recommended to use a backlinks analyser since it displays almost all the pages that are linked to the site. You may want to try Ahrefs, SEO Spyglass, Raven Tools, Open Site Explorer, or Majestic SEO to do your link analysing.
Purchase a Website: After you have decided on a specific market niche, it is time to begin exploring websites that you can purchase.
You can find a huge amount of websites for sale on online markets, such as Flippa and Empire Flippers.
After you have purchased the website, the next step is to make changes and improvements to it.  This may include the addition of fresh material, improvements to the design, and optimization of the website for search engines.
Sell the website: When you have finished making changes to the website, it is time to start thinking about selling it.
Sell your website for profits.
You can quickly put your website for sale on platforms like Flippa and attract possible purchasers in just a few clicks. Even a broker can be hired here to guide you through the more challenging aspects of selling your website.
You can also put it back on the marketplace where you originally purchased it, or you can look for a buyer through other channels, such as social media or classified advertisements.
With the above four steps, you should have no problems choosing a profitable website that can generate a stable income for some time. You are advised to check on the seller's history as well to know more about the seller's background before confirming the transaction.
Related articles:
Sell your website for profits.
How much cash is there to be made from selling websites?
The amount of money you may make from flipping websites is dependent on several things, such as the particular niche, the amount of traffic the website receives, and the quality of the website as a whole.
Flipping websites can bring in anything from a few hundred to several thousand dollars on average, depending on how much work is put into it.
A brand-new website can go from nothing to making $1,000, $2,000, or even $5,000 per month in as little as 12 to 18 months with the correct niche topic. Building and selling these websites to portfolio investors is a less well-known business strategy that has gained popularity. All this can be accomplished through Flippa.com or Empireflippers.com
A reasonable general rule of thumb is 24-36x the monthly revenue, depending on the sort of website. Therefore, a reasonable range for your website's value would be $24,000 to $36,000 if it brings in $1,000 every month.
Do websites still generate a profit?
Yes, niche websites are still successful today, especially when looking at the big picture. You should view it as an investment for the middle to long-term future as it usually takes 12 to 18 months for them to reach the point of profitability.
Is it possible to flip a website?
Because of how valuation works, flipping websites is extremely profitable.  While finding an undervalued site with high traffic but poor monetization, or good monetization but poor SEO practices, can lead to a good deal, it is not required.
What kind of money can you make selling websites?
With the right niche topic, a website built from start to finish can go from zero to $1,000, $5,000, or even $10,000 per month in as little as 12 to 18 months. Building and selling these websites to portfolio investors is a less-known business model that is gathering steam.
Frequently Asked Questions About Website Flipping
Is buying and selling websites a smart financial move?
If done correctly, flipping websites may be a lucrative financial opportunity.
However, just as with any other investment, there is the possibility of losing money, so it is essential to perform adequate research before making any choices.
How long does it take to make a complete overhaul of a website?
The amount of time it takes to generate a profit from selling a website might vary widely based on the website itself, the enhancements you make, and the conditions of the market.  To completely redesign and relaunch a website might take anywhere from a few months to several years on average.
Conclusion
Website flipping is a terrific way to make money online and develop a profitable business. Anyone can become successful at flipping websites if they have the appropriate technique and are willing to put in some effort.
If you have a passion for websites and are searching for a way to turn that interest into a profitable opportunity, website flipping is a fantastic opportunity that you may take advantage of.