How to Make Money By Freelance Writing
Can you make money freelance writing, you make ask? Well, the answer is a resounding yes! There are many ways to make money with freelance writing. One popular option is to work directly with a company or agency. However, if you are a newcomer to freelancing, you should first look for opportunities in your area of expertise.
While you may be able to find work at a local company without much effort, this may not be a good long-term plan. As a result, it is important to have a website that displays your portfolio and has an email address that you can be contacted.
Ideal Freelance Writing Niches For Beginners
The most important step in starting a freelance writing career is to select a niche. One of the best ways to make money as a freelance writer is to find a niche that interests you. This will help you focus on your niche and be more consistent with your writing.
While new writers may be tempted to try several different niches, it's best to focus on a few that interest you to help you identify your ideal niche. Do the initial work by:
Establishing your field of expertise.
Determine what you're really interested in.
Analyse whether there are any market opportunities or gaps.
Establish where these areas connect.
Then, set up a plan of action to conjure your ideal niche
This way, you can spend more time developing your in-depth knowledge and contacts. This is the best way to create your name and distinguish yourself in the marketplace.
Best Freelance Writing Niche
When it comes to freelance writing, there are many options. While you can write anything you want, you'll need to be willing to put in the hours necessary. Luckily, there are numerous ways to earn money as a freelance writer. You can write online articles, blog posts, and even press releases. You can also take on other kinds of writing, such as advertising copy. This will depend on your skill set, but it's worth the extra work.
To get a steady stream of clients, you need to focus on one niche and become consistent. This may require a little bit of research, but once you find the right niche, you can start writing and earning money. If you're not sure where to start, you can also try local and regional magazines.
As a beginner, it's always best to focus on what you already know and is familiar with. For more ideas, visit your local library, or search online for freelance writing opportunities.
Here is a list of the best freelance writing niches that are in great demand at the moment:
How-To or ultimate Guides.
Long-form Blog Posts
SEO articles.
E-Books.
Online or E-Learning Courses.
White Papers.
Case Studies.
Email Writing.
Sales Pages or Landing Pages.
Video Script Writing.
Before putting your skills to work, it's important to choose a niche in which you can excel. It's a good idea to use Google to find freelance writing jobs in your area. You can even look for businesses that cater to the same niche as your interest. Once you've identified your niche, it's time to start networking. By creating a profile on Twitter, you can also connect with other writers who have similar interests.
Freelance Writing Jobs
It's important to be realistic when setting your prices. Most freelance writing jobs are very competitive, but remember that the rate should be fair for both parties.
The client should also be happy with the work that you do. If they're paying well, then you're making money with freelance writing. Just remember that it takes time to build a business, so don't try to charge too much. Besides, it's important, to be honest with yourself.
The first time you bid for a job, it may be nerve-wracking. Even experienced writers found it difficult at first. Once you learn what to do and how to do it, it can be a breeze. But if you don't know what to do or where to start, freelance writing will remain a difficult process.
As a freelancer, you'll be able to make money and build a strong client base by getting the right type of clients. Click through to read about the 7 freelancing writing jobs that can skyrocket your earnings overnight.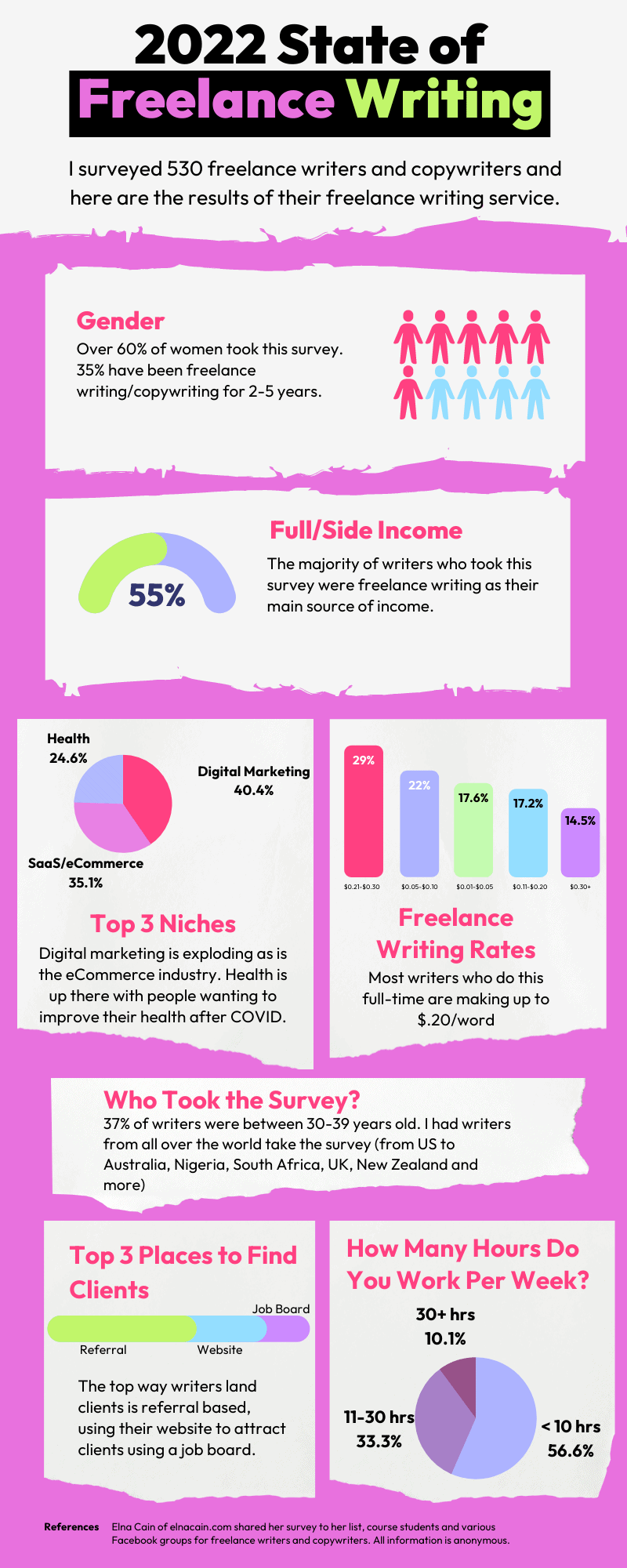 Can You Make Money Freelance Writing?
The best way to start making money freelance writing is to identify what you're good at. There are many things you can do to market your services, such as writing articles or writing blogs. Many online resources will help you find clients and market your services. For example, there are plenty of freelance networks that can help you find clients and get paid for your time. Then, you can connect with other freelancers, and you'll be able to find jobs that you're qualified to do.
There are plenty of ways to promote yourself as a freelance writer, but one of the most popular methods is to get referrals. You can try cold emailing a business that needs a copywriter or an article writer. You can even offer to write for free at the outset to help other people in need of content. It's important to remember that you'll be selling yourself a lot at first, but with enough experience, you'll become accustomed to it.
Freelance Writing Sites
Freelance sites have many benefits, including low-cost access and no registration fees. They can also connect you with large brands, which can be extremely beneficial. You will have to have a strong portfolio, but you can be matched with high-paying projects. Contently is an ideal way to promote yourself as a freelance writer because it helps big companies and brands find you. But there are also several drawbacks to using these sites.
One of the most common ways to sell your services as a freelance writer is to sign up for free job boards. For example, Freelancer.com is a fantastic place to get freelance writing jobs. All you need to do is fill out a form with a few samples of your work. You should also discuss the amount of money you'd like to earn and the frequency of payment. These sites are great places to start.
Here is a list of some of the best freelancing writing job boards online:
Do Freelance Writers Make Good Money
There are many reasons to be a writer, but the main one is that you enjoy the creative process. As a writer, you are in control of your time and the amount of money you make. While it's not easy to set your rate, you can set a budget and set your own income goals. You can start your own business or use the services of an experienced editor.
Two of the most popular sites online are Upwork and Guru. These sites feature clients posting jobs, and writers bid on them. After reading the bids, the clients select a writer based on the lowest price. In general, you can expect to earn anywhere from $5 to $100 per post, depending on the genre and experience level. There are also various programs that writers can take advantage of, as long as they meet the minimum requirements.
The amount of money that freelance writers make per piece is based on experience and the niche in which they write. Some projects require more detailed research and effort than others, so it's important to record the output for each one.
It's crucial to recognise that some jobs that involve a lot of labour should be commensurate properly, while others simply require a tiny fraction of your time; your earnings should reflect this.
You should be aware of the value of your time, and you should ask for what you deserve. You're in business to earn a living.
Related articles:
Get Paid To 5000 Per Month To Write Online
How to get paid to write online
Writing Articles: How to make your article interesting and compelling
How To Use Article Marketing To Promote Your Product And Services
How Much Money Do Freelance Writers Make

You may be wondering, "How much do freelance writers make per year?"
While the PayScale and ZipRecruiter surveys averages are both below the median, the first-year respondents earn less than $10 per hour. The median range is between $20 and $100 per hour, and one-third make under $10 per hour. In the long run, if you can work hard and consistently, you should be able to make a good living as a freelancer.
The average pay for freelance writers depends on their experience. While the average annual income for freelance writers is $42,120, there are huge variations. If you're a writer who works for a single client, you'll most likely earn a lot more than that.
Freelance writing rates can also vary greatly. For instance, some writers charge $92 per hour, while others charge $1.63 per word. While this might seem a lot, it is important to note that the rate varies for different types of content. It's best to check the rate structure before beginning a new freelance writing job. The average hourly rate for a marketing copywriter is $108, while an advertising copywriter will earn $92.
Paid Online Writing Jobs For Beginners
The best way to make money writing is to have a regular blog. This way you can show potential clients that you're an expert in your field and that you're up-to-date on industry trends. It is also helpful to network with other writers to build a support system.
This is essential in today's competitive world where it's very easy to get caught up in the hype. Having a network of followers will give you an edge over other writers in your niche and give you tips for improving your work.
To get a steady flow of potential clients, you need to network online. You can do this by networking with people you know. For example, if you have a background in social media, you could join a group that specializes in social media. Having your blog is a good way to build your portfolio. Each post will contain your byline, and this will allow you to show off your writing skills to potential clients. You can also create a website to showcase your work.
Depending on your area of expertise, you may have to charge less in the beginning. Once you've built a solid portfolio, you can charge more. As a newbie, you'll need to offer low rates to get your name out there. If you're new to the world of freelance writing, you should remember that the best way to make money with freelance writing is to be consistent. As a freelancer, you will need to be available at all times to meet your client's needs.
It's important to remember that long-term writing clients are not as easy to find as one-time projects. As a freelance writer, you have an advantage in getting freelance writing clients, which is why it's important to have a well-developed writer's portfolio.
Which kinds of writing are currently in high demand?
The main kinds of freelance writing jobs that are in demand at the moment are:
Writing articles and features.
Writing copy or content.
Writing content for social media.
Blogging
Editing
How challenging is it to break into the freelance writing industry?
To have success as a freelance writer, you need to put in a lot of effort, have solid time management skills, and be able to hustle to find new gigs.
When it comes to landing big copywriting contracts or getting published in high-paying periodicals, there is a great deal of competition. In order to differentiate your writing services and set yourself apart from the competition, you will need to devise a plan and invest in your future.
Conclusion
In summary, the best way to make lots of money as a Freelance writer is to distinguish yourself from the rest and specialize in a niche in a particular field. The more successful you are at a specific type of writing, the more money you'll make.
Freelance writing has its benefits and there's no better way to make money online than with freelance writing, try it.